Meet the BCyber Website Security Programs
Let's address the forgotten attack vector, of website security.
Your website needs to be a secure environment for both visitors and you. It provides your customers (current and prospective) with their first impressions of your business – you need to make sure that your website remains updated and secure at all times.
Cyberattacks against public-facing websites are becoming increasingly common. It is not based upon the size of your business, but rather the ease of the cybercriminals' access. A website breach may result in any number of nefarious activities, we have listed just a few examples below:
Website defacement: Think of it like electronic graffiti
Loss of website availability: Distributed-Denial-of-service (DDoS) attacks try to overwhelm your website, making it impossible for it to function correctly
The compromise of sensitive customer or corporate data: You don't want your data or your customers data posted for sale on the dark web
The cybercriminal taking control of your affected website: They can then post what they want, when they want and you have no say – You no longer have control over your website, its content or, its customer interactions
The cybercriminal using your website (which they have control over) as a staging point for watering hole attacks: They just lay in wait for an opportunity to attack and infect your customers (their prey)
Let BCyber help you strengthen and monitor your website via our one or, both of our Website Security Programs:
Website Assessment Review:
BCyber conducts a detailed website security assessment identifying and then remediating identified website vulnerabilities. Upon completion of this one-off review, a report outlining key findings and providing evidence of remediation activities is provided. You now have a cleaned and hardened website – all you need to do is keep it that way.
Website Hardening and Monitoring Program:
A comprehensive subscription service incorporating where we do all the hard work for you:
Daily security monitoring of your website
Security vulnerability identification and updating
Monthly reporting on the security and overall health of the agreed websites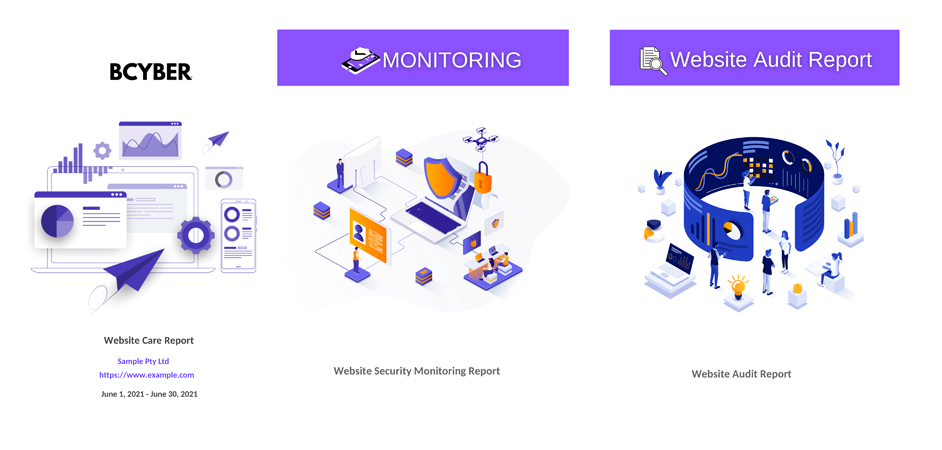 Website Hardening and Monitoring Program
Daily monitoring and updating combined with your tailored monthly report, provides you with the knowledge that your website is as secure as possible – the report also provides additional information on broken links, SEO hints and the like. We aim to ensure our clients websites are not only secure but are also healthy – promoting and growing your business the best they can.